Project Manager: Gadiru Bassie
Locations: Barri & Galliness Perri Cheifdoms, Pujehun District
WASH PROJECT
EFSL is also involved in Community Water and Sanitation Projects within targated communities. With this project, water wells and latrines are constructed in Communities.
DIGGING OF WATER WELLS
The EFSL construct water wells in targeted communities that have a population of about 200 to 300 to a well. In 2016/2017 EFSL has constructed many water wells in different communities in the southern district of Sierra Leone and is about constructing more water wells in communities that are in great need of water through out the should funds be available.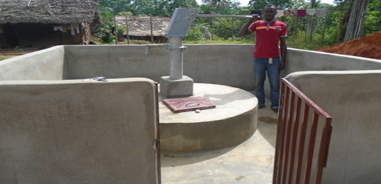 Newly constructed Water well in Libbey Village Galliness, Perri chiefdom
BUILDING CAPACITY OF COMMUNITY PUMP TECHNICIANS
As EFSL works tirelessly to providing sustainable water in rural communities, the organisation is also involved in building the capacity of local Pump mechanics in Communities where the wells are dug. The Picture below shows the EFSL WASH technicians training Community Pump Mechanics.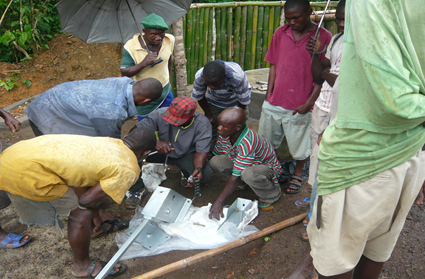 Trained local WASH Technicians installing hand Pump on EFSL constructed Water well
The Picture above shows the trained local Pump Mechanics installing the hand pump in the Water well